We all know that planning a holiday party menu can be difficult–where do you begin?
This year, instead of deciding on a main dish and planning the rest of your menu outwards from there, we thought we'd share one of our favorite approaches to creative menu planning. Start with the guest's experience from the moment they walk in the door, and use a list or a photos of small serving wares like the one below to brainstorm a menu featuring creative serving ideas and favorite foods.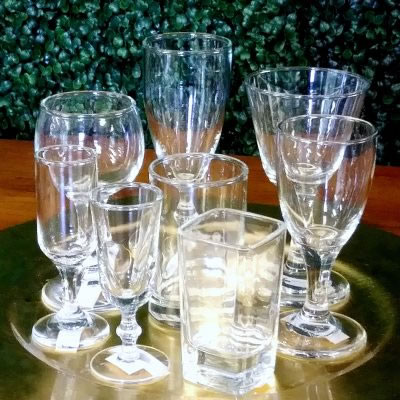 For starters, if the weather outside is frightful, how about offering your guests an appetizer of warm tomato soup and mini grilled cheese sandwiches in tall shooter glasses as soon as they arrive?
This is also the perfect time to warm them up with a signature cocktail in a small specialty glass. For autumn, how about a caramel apple mini martini, apple cider mini margaritia, or a more traditional Old Fashioned or a whiskey sour? As the year comes to a close, you could consider a White Russian, champagne cocktail, or anything cranberry!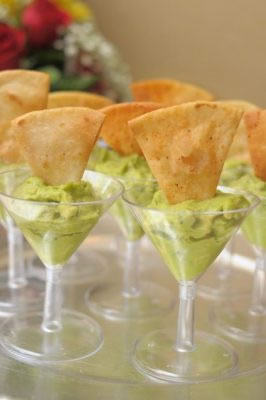 As your guests start to settle in and mingle, you might bring out a few more appetizers while waiting for everyone to arrive. This would be a great time to serve finger foods that involve dipping or scooping, such as individual ramekins of hummus with veggies, or guacamole and chips served in mini martini glasses.  Plan on two to three servings per guest, and let everyone mix and mingle!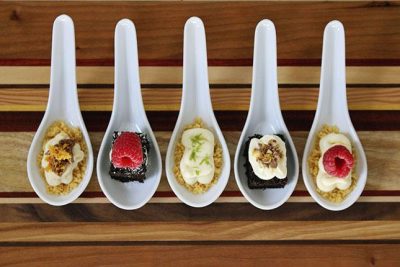 As dinnertime arrives, you can continue featuring small wares by beginning with a salad course served in individual small bowls or mugs. This would work with either a seated or a nonseated dining plan. At any point during your event, you could invite guests to be seated at your dining table, or serve the remainder of your menu from a buffet, in either a pre-plated or a self-serve style.
Last but not least, what's a party without dessert, or better yet, a few desserts? One of our favorite ideas is mini desserts on Chinese spoons. Your ony limit with these is your imagination, and we're sure your guests will want to try more than one! So this holiday season, try letting small wares spark your creativity and help you plan a menu to remember!