It's a time full of pride and excitement for the future– you finally have a GRADUATE! Let us help you plan a celebration that special person deserves. Here are our top 5 ideas to throw the perfect Graduation party!
1. Tent or Canopy– to keep your guests comfortable and create a fun event space to celebrate, you'll want to have a shady spot for everyone to gather. We can help you determine the size you need, based on your guest count.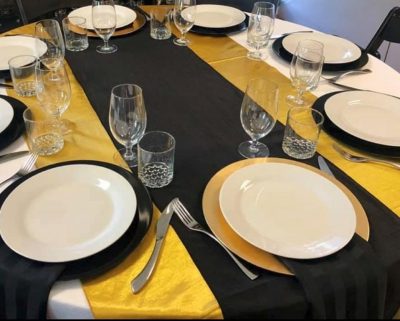 2. Tables– Whether you prefer round or banquet-style, your tables can really showcase your graduate's Alma Mater! Avoid the graduation party crunch of driving around looking for items in school colors–we can help with all school color combos, from CB West black and gold to Penn State blue and white!
3. Seating– make sure you have enough chairs for everyone. Renting chairs allows your guests to relax in comfort, and relieves you of the storage problem afterward!
4. Food– Make sure you have enough table space for the food and drinks you are serving. Trying to fit every thing on one small table will create a traffic jam to your buffet–things go much more smoothly when you have enough of an area for all of your refreshments. Depending on your guests, you could also consider renting a separate bar, Kegerator, or slushie machine, or a hotdog roller and cotton candy machine. These can all be placed in separate areas to create even more space for guests to mix and mingle.
5. Games– Keeping the little (and big!) kids occupied is half the fun. Check out our website for great yard games like Giant Connect Four, Ladderball, and much more!
And finally, here are a few more items that have been very popular with graduates and parents alike:
Projection screen for slideshow of graduate
Easel to hold Congrats board
Ice tubs, either floor or tabletop
Karaoke machine
Last but not least, extra trash cans!