We are so excited to get the holidays underway, and we wanted to bring you three of our very favorite recipes to make your holiday events extra special. There are a few for adults and one for kids as well, and we also have the perfect glassware to show off your mixing talents!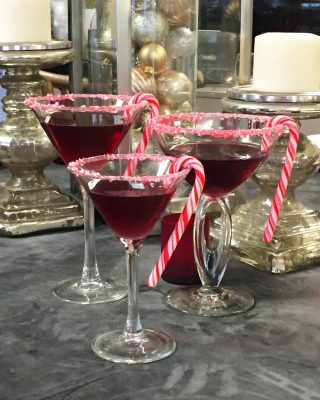 Rudolph's Red Nose
2 oz vodka
2 oz orange juice
3 oz chilled unsweetened cranberry juice
3 teaspoons sugar
Mini candy canes for rims and garnish
Mix all ingredients in a cocktail shaker filled with ice, shaking vigorously. Crush one candy cane and set on a small plate. Touch the glass rims onto a separate plate of water, then dip the damp rims into the crushed candy cane. Strain the cocktail shaker into chilled martini glasses. Garnish with mini candy cane on the side.
Cinnamon Hot Chocolate with (or without!) RumChata
3 c milk
1/2 c half-and-half
1/4 c plus 2 tablespoons cocoa
3 tablespoons sugar
1 teaspoon cinnamon
2 teaspoons vanilla extract
1/2 c cinnamon RumChata (omit for the kids!)
Whipped cream to garnish
In large saucepan on medium, heat milk, half&half, cocoa, sugar, and cinnamon. Stir well. Once the mixture is steaming hot, add vanilla and RumChata. Serve in an Irish Coffee or Mason jar mug, top with plenty of whipped cream.
Sour Apple Champagne Cocktail
2 oz sour apple schnapps
3/4 oz Triple Sec
1 oz vanilla vodka
Champagne to fill the glass
Fresh cranberries for garnish
In a cocktail shaker, combine schnapps, Triple Sec, and vodka with a little ice. Divide among 4 champagne glasses, then fill the glasses the rest of the way with Champagne and garnish with cranberries.