American resilience, wide open spaces, luxury tents, creative seating and petite gatherings…. these are a few of our favorite fall things. 
Americans are a resilient people that will always love and appreciate their freedom.  We will get back to business, and we will also get back to gathering with those we love.  While hosting an event in the fall of 2020 will undoubtedly feel different than previous years, this fall is slated to be a magical time in America as the Covid fog is lifted.   Here are three event planning tips that will help you start embracing your fall outdoor event planning now, so that you are ready for relaxed hosting as the leaves start to change, the pumpkin spice lattes return to cafes, and that indescribable scent of autumn is back in the air: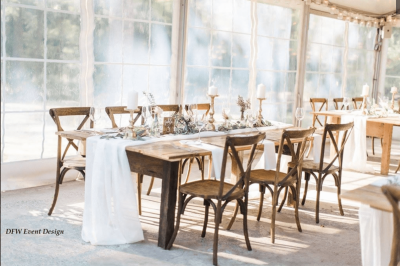 Petite Is Chic:
With concerns still weighing on your guests' minds as we phase out of isolation, petite events will become much more popular for planners with guests at higher risk.  While the guest count for these events is considerably smaller, the amount of design customization you will enjoy can be very similar to their larger alternatives.  However, because of the cost savings that come along with headcount reductions, petite event planners often find themselves with much more budget per guest to work with.  As a result, hosting a smaller event allows you to get more elaborate with your 
chargers, china
, 
chair options
 and 
premium linen options
.   Consider an intimate venue like the 
Wayne Bed & Breakfast
, 
New Liberty Distillery,
Faunbrook 
Bed & Breakfast
 or the 
Morris House Hotel 
that all offer you the flexibility and creativity that comes along with hosting an event in your own backyard, while at the same time providing a one of a kind setting with minimal post event clean up.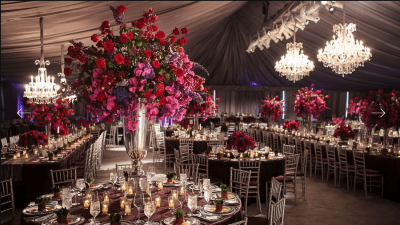 Creative Seating Arrangements Will Be Trending:
Events within traditional venues will obviously continue as well, but many brides will now consider booking a larger space than they need, and getting creative with their floor plan to allow their guests to spread out.  Venues such as 
Normandy Farm Hotel 
are already recommending this concept.  Grouping your guest list by family is not a new concept, but you may consider offering each separate family their very own table.  A symmetrical, matching set of furniture can make a room look clean and sharp. But there's no rule stating that furniture needs to match, and varying a few elements is an easy way to add contrast and texture to a room while showcasing your personal style.  Picture a family of 6 at a rustic farm table, intermixed with a family of 8 at a 48-inch square and a family of 4 at a 36-inch round table, each allowing you to get creative in designing complimentary tablescapes. Blending farm tables, high top tables, lounge furniture, round tables and rectangular tables all in one eclectic floor plan adds tremendous depth and value to the guest experience, as well as your 
photos!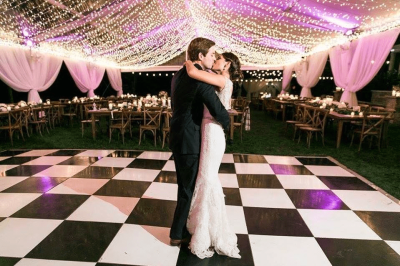 Add A Touch of Fall Luxury To The Outdoors:
While it may sound counter-intuitive, there is nothing more sophisticated than a 
luxury tent
. Sailcloth, completely clear, or with open sides, these sturdy structures present a blank canvas for you to showcase your day-of style while also offering high ceilings with enough space for guests to comfortably breathe.  A properly sized tent allows you to 
build your own ballroom
, layering in greenery walls, mobile bars, comfy cocktail area, and a dance floor in a manner that creates the exact experience you hope to bring to life.   As a finishing touch, add in string lights or tent chandeliers that make your guest completely forget they are in your backyard.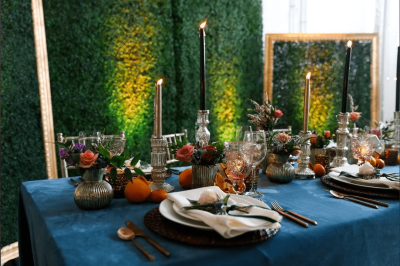 About A to Z
A to Z Party Rental has been serving the community for over 50 years with a robust inventory of American made products and sustainable business practices.  While the Coronavirus may be slowing everyone down, we can't, we won't, let it stop us.  The party continues here at A to Z while we honor Governor Wolf's request by servicing our clients remotely via phone and email.  Give us a call at 215-646-6777 and let's keep planning your future event.  We are eager to help you strategize outdoor tenting, tablescapes,  backyard games, grills, sanitizers, fall color schemes and everything in between!
We want to take a moment to say "thank you" to our industry friends at Slay Displays.  They created a tremendous amount of face shields for healthcare workers and donated them to Hospitals, Nursing Homes and Medical offices.   Please support their local event business which is also doing some amazing things ranging from four foot letters to giant sequin walls.