Tag along with us mentally as we fast forward to late summer. BBQs with friends, embracing those final opportunities to create memories down the shore, and blue skies filled with healthy fresh air are all on our agenda. The pent up demand from our families to reunite and celebrate life together will be extraordinary, and we will be looking for beautiful venues that also embrace the outdoors. Capture your love for mother nature at one of these stunning outdoor event venues that are located within, or just a short drive away from the city of Philadelphia: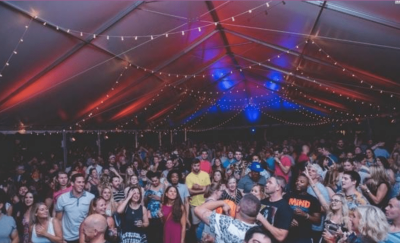 The Philadelphia Zoo
If you think hosting your wedding or corporate event at a zoo is a wild idea, you're right, it is! Your guests will sip cocktails immersed in a world of brilliantly colored birds, dine in the midst of majestic great apes and celebrate in glamorous style with their rare and exotic big cats. The Philadelphia Zoo offers a wide range of spaces and locations to serve as the scene for your special occasion. Choose from a LEED-certified building with world-class educational demonstrations, floor-to-ceiling glass exhibits that let your guests get "within inches" of their favorite creatures, or outdoor plazas with breathtaking views of nature and magnificent fountains.
3400 W Girard Ave, Philadelphia, PA 19104 | https://philadelphiazoo.org/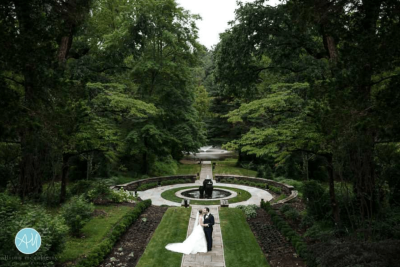 The Inn At Villanova
Whether you're planning a two-day corporate meeting or the wedding of your dreams, the Inn at Villanova's Montrose Mansion is a favorite venue for special celebrations. In Spring and Summer, the outdoor terrace and the landscaped gardens and grounds are the perfect backdrop for cocktail hour. Located in the heart of Philadelphia's beautiful Main Line, The Inn at Villanova University can also provide your guests with comfortable overnight accommodations.
601 County Line Road Radnor, PA 19087 | www.theinnatvillanova.com
Bartram's Garden
Get ready to host the ultimate garden party. The oldest botanical garden in the country provides intimate natural settings for an outdoor ceremony, and transitional spaces for cocktails and lawn games. Bartram's Garden's new Eastwick Pavilion is customizable, with a covered porch and a Love Park granite patio to entertain up to 300 guests. We'd be remiss if we didn't mention the outstanding food and exceptional service, all with river views and the Philadelphia skyline on the horizon.
5400 Lindbergh Blvd., Philadelphia, PA 19143 | https://bartramsgarden.jhollandergourmet.com/
Grounds for Sculpture
Grounds For Sculpture is a continually evolving landscape. Every season brings new ways to look, see, and explore the park founded on the New Jersey State Fairgrounds. Across 42 acres, you can find a meadow rich with wildflowers, butterflies, and a pond teeming with natural life. Or wander through manicured fairways and paths, past elegant and architectural reflecting pools, to admire the living library of native and exotic trees and flowers. Whether you're planning a business meeting for 10 or a gala reception for 400, Grounds For Sculpture's unique facilities and dazzling location make it one of New Jersey's premiere event destinations.
80 Sculptors Way Hamilton, NJ 08619. | https://www.groundsforsculpture.org/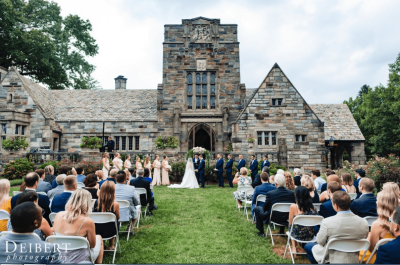 The Merion Tribute House
The Merion Tribute House is a unique English Country Manor, ideal for weddings, social gatherings and corporate events. Inside and out, the Merion Tribute House reflects the beauty of the Arts and Crafts tradition of the early 20th century. Guests can flow between their outdoor Terrace and the intimate spaces of their Hall, Lounge and Legion Room. Gather inside or out, enjoy the view, or relax by the stone fireplaces. Outdoor ceremonies can be accommodated anywhere on our eight-acre estate, typically on the front lawn where guests can admire the bride's entrance and processional from our Great Doors.
625 Hazelhurst Avenue, Merion Station, PA 19066 | http://www.tributehouse.com/