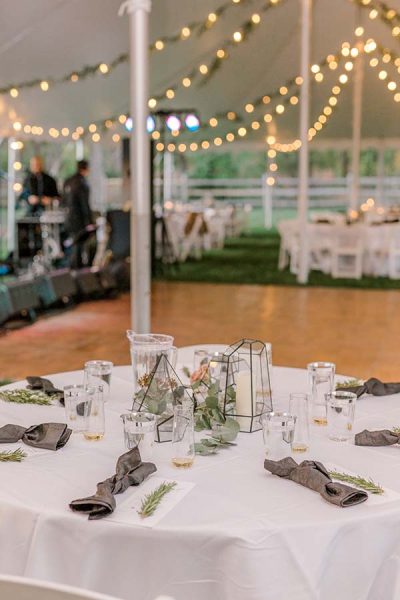 Diamond Package
Our Diamond package is for elegant celebrations of up to 200 guests.
Our 40 x 100-ft pole tent, 60″ round tables covered in crisp white linens, and matching white chairs will give your event a beautiful classic look.
An 8-ft bar, 18 x 24 Parquet Dance Floor, and two 48″ round tables for desserts or Sweetheart seating provide the details to create the beautiful event you always imagined.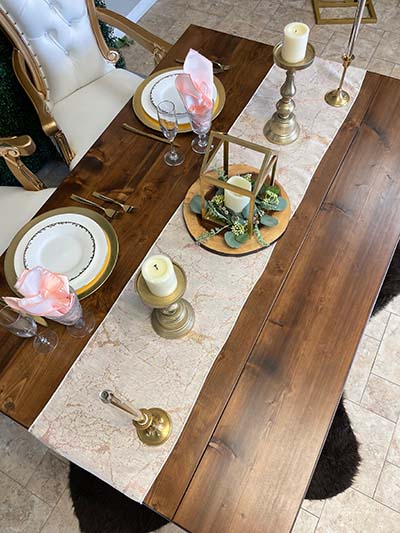 Emerald Package
Our Emerald package is designed to provide memories of a lifetime.
Up to 200 guests will celebrate with you beneath a breathtaking 60 x 100-ft pole tent.
Our Sweetheart Farm Table provides perfect seating for your first champagne toast.
Classic 60″ round tables showcased by premium floor-length white linens and our statement Crossback Farm Chairs with Natural chair pads will keep your guests in style and comfort.
You'll dance the night away on our 18 x 24-ft Parquet Dance Floor and be refreshed at the 5′ bar.
This package will bring your dream wedding to life!
Ruby Package
Designed for an event up to 100 guests, this package will host your guests under a beautiful 30 x 60 fully staked pole tent.
It includes a 12-ft-square Parquet dance floor, our classic 60″ round tables, classic beige folding chairs, and a 6′ bar with bar skirt.
The Ruby Package provides everything you need for a memorable special day.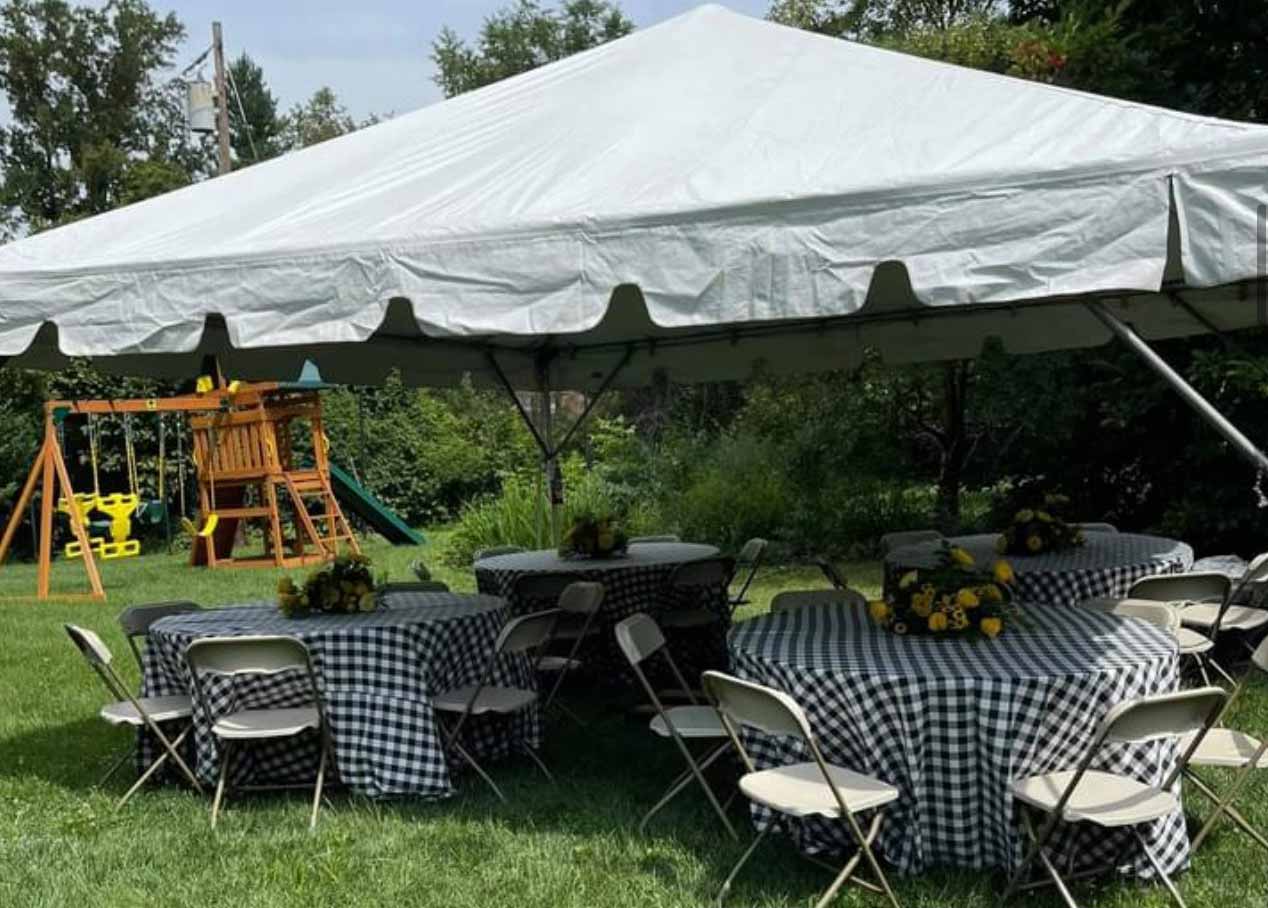 Willow Package
Our Willow Event Package is our smallest package available.
For the intimate gathering of up to 40 guests, or as a hybrid to the house party that can't accommodate all the guests indoors.
A 20 x 20 -ft tent, 60"round tables, 8' banquet table and bone folding chairs provide the additional seating you'll need outside.
The 8-ft banquet table is helpful for your food or drink needs, to be used indoors, on your deck  or patio, or next to your tent.
To round out the décor, dress it up a little with some additional linens.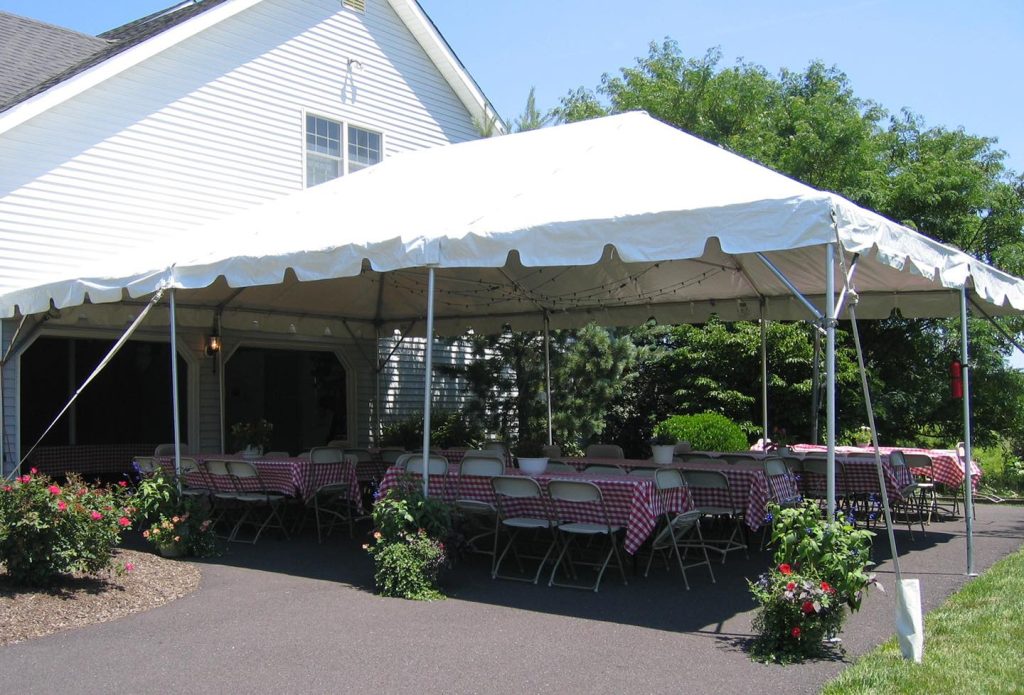 Juniper Package
Our Juniper Event Package is an excellent choice for seating up to 60 guests outdoors.
It's also a great hybrid option to the house party that can't accommodate all the guests indoors.
When you're not sure of the exact count of attendees but want to air on the side of caution, choose the Juniper Package.
Our 20 x 30-ft tent, 60" round tables, 8' banquet table and bone folding chairs provide the extra seating for those who didn't RSVP but decided to attend.
Upgrade with a few high–top tables to the mix for those who want to socialize but not sit down and match your theme with our huge selection of linens.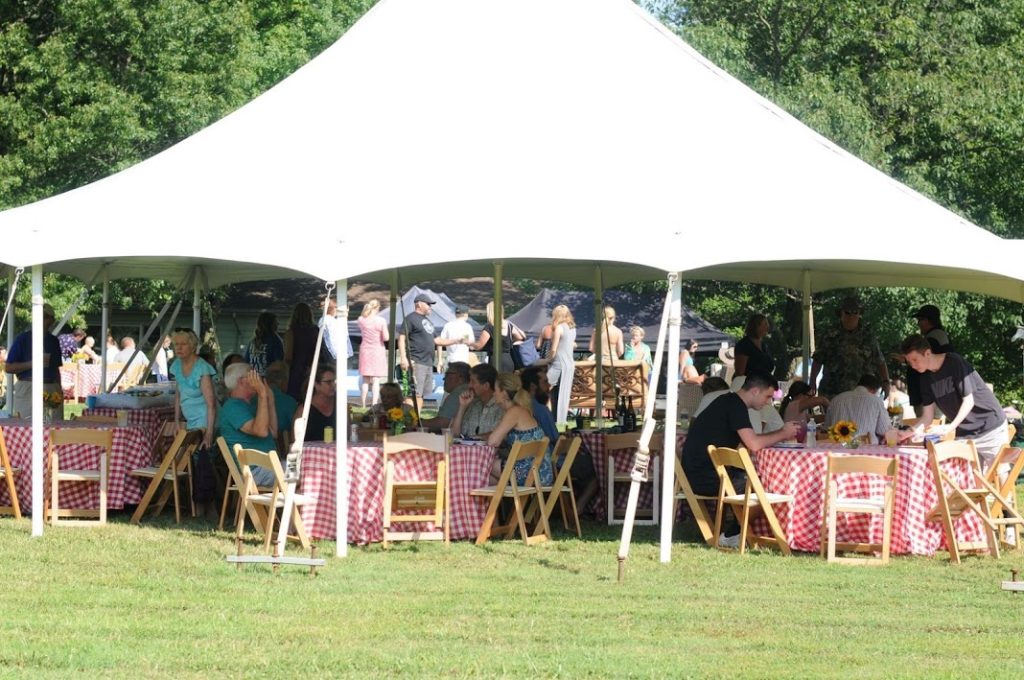 Hazel Package
Our Hazel Event Package is designed for seating up to 80 guests.
This package is another excellent option to be ready for those arriving guests who didn't RSVP, or 80 guests who did.
The 20 x 40-ft tent, 60" round tables, bone folding chairs and banquet tables can be positioned to seat 60 – 80 guests under the tent or around your property.
Some guests like sitting in the sun and appreciate a table outside of the tent. Others prefer to be sitting in the shade of the tent, near the food and drinks.
You can decide and move them wherever you choose. Dress up the event with some linens and/or high-top tables.