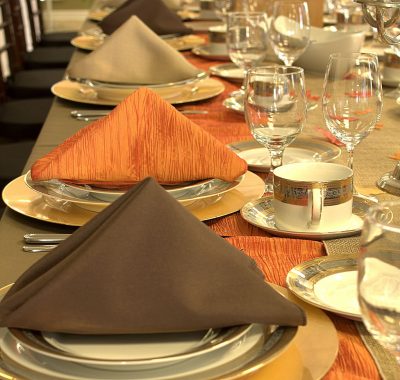 As we approach November, Thanksgiving is once again just around the corner.  Thanksgiving is a time of the year for many families to reconnect. But it can also be a very stressful time. Add in the preparation of a large family meal and guests at your home and you've got the perfect recipe for an overwhelming situation.  We are here to help you with some coping tips:
 The first step: Determine what time you'll hold your dinner, let everyone know, and get a confirmed guest count.
Decide on a menu. Write it down!
When guests ask if they can bring something, check your menu and ask them to bring something you need. Then, cross it off your list!
Now that you know how many guests will be there and what the menu will be, decide whether you want to serve from a buffet or as a family-style dinner with passed dishes. With larger groups, it's usually easiest to seat people at several small tables and have one buffet. A to Z Party Rental can help with table and chair rentals, buffet tables, linens, and even warming chafers, serving utensils, and coffee percolators!
Don't forget the young ones–A to Z has kid-sized tables and chairs, as well as booster seats, that will keep the kids comfortable in their own space.
Consider renting linens, china, and glassware to complete the look of your Thanksgiving dinner. Gold-rimmed elegance? Rustic slice chargers? Casual, classic fare? Linens in unexpected rich colors that showcase your personal style and home decor? Whether you are looking to create a specific mood, or you just don't have enough plates for all of your guests, we have you covered!
Stay tuned next week for printable day-by-day tips to keep you on track during the holiday week!