[gap height="1″]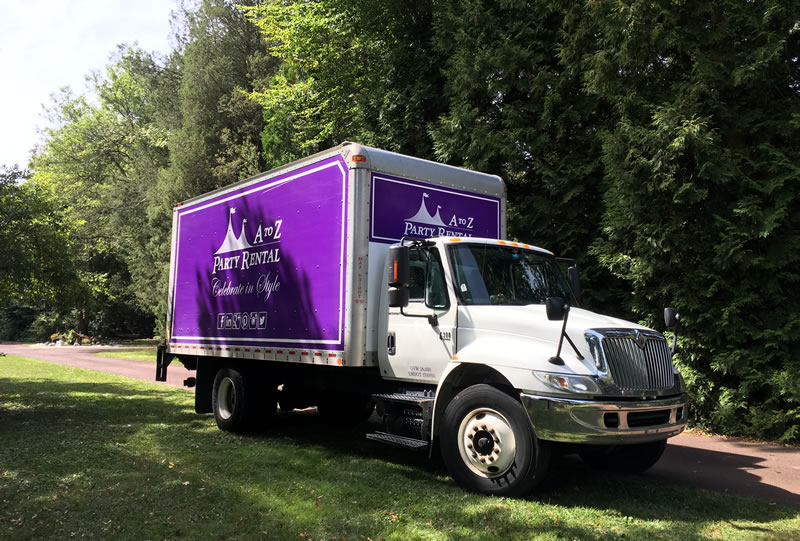 Delivery
Deliveries may occur 1 – 4 days in advance of the event date. Pick-ups may occur the day following the event or later. The date and time will be determined by our Dispatcher and advised in advance. Items will be placed outdoors in immediate access of the delivery truck, unless another area is agreed to in advance of the delivery. Section 15 of our contract terms should be reviewed for additional terms.
Priority Delivery
We are happy to accommodate any time, day or location specific delivery and pickup requests in advance of your event during the planning process.
There is an additional fee for priority delivery and/or pickup.
Customer Pickup Policy
We do require the individual picking up the order provides a valid Pennsylvania driver's license and they must be over the age of 18. We also require either a Master Card, Visa, or Discover card to be held on record. If a balance is due at pickup, we require the credit card holder to be present in an effort to prevent identity theft.
Cleaning Policy
All rental items should be returned clean, in the same manner in which they were received.  All items that come in contact with food need to be rinsed of all food products prior to return. Please place the items back in the storage containers provided. If rental items are not returned as received an additional cleaning charge may apply or the cleaning deposit will not be refunded.
Linen Policy
Changes to size, fabric color or quantity must be made at least 5 business days in advance of the rental date. Refunds are not provided for cancellations made within 7 days of the rental date. Additions are subject to availability. Linen does not need to be washed but crumbs and confetti should be removed prior to returning. Stains on linen are not considered normal wear and tear. If you have purchased damage protection, it will provide coverage for stains. If the linen gets wet, please allow it to dry before placing in a storage box or bag.
Damage Protection
Damage Protection is available and can be purchased in advance of your rental order. It cannot be added on after you have picked up your rental order or received your rental order delivery. With this coverage we relieve you of liability for accidental damage to the rented item(s) and for loss due to fire, collision, windstorm, upset and riot. Excluded are any losses or damages due to theft, intentional damage, mysterious disappearance or other loss due to your failure to care for the rented item(s) as a prudent man/woman would care for his/her own property. Damage Protection is non-refundable. Specific details of this coverage can be viewed in Section 10 of our Rental Contract.
Broken Rental Items Policy
If you have purchased Damage Protection in advance of your rental you will not be charged for accidental breakage. However, Damage Protection does not cover missing or intentionally broken item.
If you did not purchase Damage Protection you are charged the replacement cost of the rental item.
Missing Rental Items Policy
If the rental items are missing upon return you are charged the full replacement cost for that item.
Late Return Policy
Orders can be returned anytime during business hours on the scheduled date of return. If the order is returned on a following date the rental rate is adjusted based on the total time the order is kept. Each additional day adds 20% of the daily rate to the charges.
Cancellation Policy
• Linen orders cannot be changed or cancelled within 72 hours (business) of the reservation date.
• Tent orders are subject to a 50 – 100% cancellation fee.
• Event Furniture orders are subject to a 50% cancellation fee within 4-7 days (business) of the event date. No refunds will be issued for cancellations made within 3 days (business) of the scheduled delivery date.
• All other rental orders are subject to a 50% charge if cancelled, with a minimum of $15.  Cancellations within 7 days of the event are subject to a 50 – 100% charge
Setup and Breakdown of Rental Equipment
We do provide this service to our customers for an additional fee. There is no additional cost to setup and remove our tents. However, we do not setup or remove customer installed canopies.
Thanksgiving Rental Policy
Payment is due in full at the time of reservation. Cancellations or a reduction in the order after 11/18/21 will not be honored. A 50% cancellation fee will apply to items removed from the order on or prior 11/18/21, minimum fee $15.00. Any balance due will be processed on 11/22/21.
Our deliveries will occur Monday-Wednesday and our pick-ups will occur Friday, Saturday, Monday or Tuesday. You will be notified of the date and time. Should a specific date for pickup or delivery be required additional fees apply.
Warehouse Pick-Ups will be on Tuesday and Wednesday 11/23 and 11/24, unless otherwise advised by A to Z, and returns are on Friday or Monday.