In the era of silicone straws and reusable storage bags, conservation and sustainability have become a top priority for consumers in their daily lives. But when it comes to parties and events, many find themselves perusing the bulk stores for plastic silverware, paper plates, and disposable serving dishes, spending substantial money on products that will ultimately end up in the landfill. Even with the best intentions of recycling, consumers may actually be doing more harm than good.
Contamination of recycling loads, whether from food on items, water-soaked cardboard, or just improper items thrown into the recycling, is a major problem. If the contamination percentage is too high, reprocessing facilities will not take them and the entire load is sent to the landfill.
Another popular approach to work toward sustainability has been the use of biodegradable, compostable food service items such as bamboo plates, utensils, and serving platters. The problem with these items is that they are meant to be composted. Composting is a specific process requiring microorganisms, air, and water. Unless you're sure that your items are going to a dedicated composting facility, they are most likely just adding to the landfill.
As we consider this complicated problem and ask ourselves what we can personally do to increase sustainability, an easy practice comes to mind: "Dispose of your Disposables."
The party rental business is, by nature, a sustainable business. Everything in a rental warehouse is specifically designed to be manufactured once and then reused over and over. A wedding party rents flatware that is then returned to be used again for a charity gala, and so on. Reusing items, which is the focus of a rental company, is preferable to recycling because you prevent the constantly repeated consumption of manufacturing materials and shipping resources.
Reusable rental items also give you more style and customization possibilities than disposables. By offering everything from traditional buffet chafing dishes to rustic mason jars to posh brushed gold flatware, A to Z Party Rental offers the benefit of customizing the look of your event while you are eliminating unnecessary waste. Our rental inventory offers a wide selection—for example, we carry over 100 linen fabrics and colors, far more than you'll ever find in the disposables aisle. Rental products are the perfect draw to add that special spark to your next event. Owner Melani Kodikian shares that "we aim to be the life of the party while respecting the life of our planet."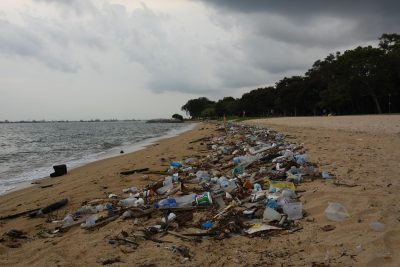 Image: Litter on East Coast Park. By Vaidehi Shah, Singapore
[CC BY 2.0 (https://creativecommons.org/licenses/by/2.0)]. Available at: https://upload.wikimedia.org/wikipedia/commons/b/bd/Litter_on_Singapore%27s_East_Coast_Park.jpg