We are proud to be part of this amazing tradition that dates back to 1890. Philadelphia, Pennsylvania has hosted the game most often as it is a neutral territory.
The Army-Navy Game Tailgate was a perfect opportunity for us to show off. Our team had the opportunity to provide tenting that allowed guests to enjoy their time together before heading into Lincoln Financial Field to watch the game. It was a pleasure working closely with Travis Manion Foundation and Revel XP to make such a grand event happen.
"Travis Manion Foundation strives to unite and strengthen communities by training, developing, and highlighting the role models that lead them. We develop programs, training opportunities, and events designed to empower veterans and families of the fallen, and then inspire them to pass on their values to the next generation and the community at large."
Revel XP is all about elite fan experience hosting tailgates all over!
"We created REVELXP to re-imagine and redefine game day with memory-making experiences that ignite fan passion, drive attendance, and build loyalty for sports and entertainment brands across the world."
It was an honor to be a part of an American Tradition that dates back to 1890. It truly was an experience to be a part of. Quoting began in October and the event was in December. I never imagined the scope of the project to be as large as it became. While on site there were some changes and additions that myself and my team were able to overcome. Our production crew was on site from 5 am until after dark making sure everything was exactly where it needed to be. I couldn't be more proud of how the production and party crew handled all of the obstacles on site!
The tailgate took place Saturday December 12th 10 am-3 pm. The game took place at Lincoln Financial Field in Philadelphia, Pennsylvania on December 12th at 3:30pm with 69,117 in attendance. The Lincoln Financial Stadium has a max capacity of 69,896! Philadelphia, Pennsylvania has hosted the game most often as it is a neutral territory. However, it has been hosted in other states such as New York, New Jersey, Baltimore-Washington, D.C. area.
Scope of the project:
40' x 40' VIP Tent
20' x 30' Food/Buffet Tent
20' x 25' Merch Tent for TMF
And (3) 20'x 20' for sponsors like Amazon , Barstool Sports & Gi Johns!
Banquet and Pedestal Tables
Folding chairs
Furniture from AFR
Linens from Choice Party Linens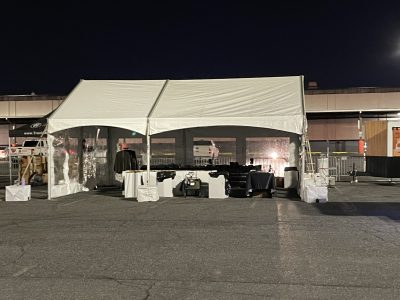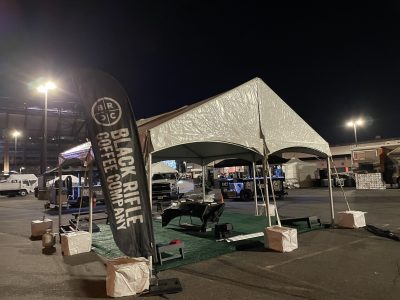 Sources:
https://www.travismanion.org/about-us/who-we-are/
https://www.armytimes.com/news/your-military/2021/12/10/fast-facts-about-the-army-navy-game/
https://goarmywestpoint.com/news/2022/12/10/football-army-defeats-navy-in-double-overtime.aspx#:~:text=PHILADELPHIA%2C%20Pa.,won%20the%20toss%20and%20deferred.